The most popular manufacturers of Acrylic Polymer Solid Surface in South Australia are the Brands; Corian, Freestyle, Hi-Macs and Staron and each of these manufacture their own unique range of Solid Colours, Styles and Stone-Look Patterns, which all have a small degree of depth and are available in a matt / satin finish. Acrylic sheet materials are available in a variable range of thicknesses which can all be built-up to appear any size you desire.
Acrylic Solid Surface sheet material is a warm-to-the-touch material which is non-porous, easy to clean, water proof, hygienic and reasonably stain resistant. If accidentally damaged it can be repaired without a trace because it can be liquid filled and when set is sanded back to a Matt Finish or buffed.
The big advantages of Acrylic sheet are that your Benchtops can be joined together with near invisible seams. This material and can be machined and shaped just like timber can and it can also be heat-formed into unique shapes where the only limit is your imagination. Heat forming which bends the sheet, allows drop-front tops to have seamless bowed lines; permitting Benchtop designs that flow up into bar tops or down onto the floor or adjoining tables. In short, these Acrylic Solid Surface sheets allow you greater creative freedom.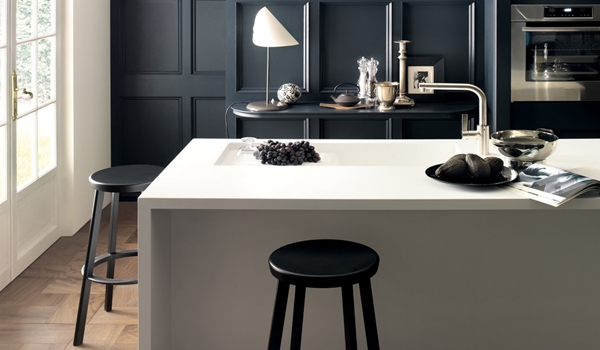 Most Acrylic sheet manufacturers recommend that Kitchen Benchtop surfaces are finished off to a Matt or Satin, but it is possible to buff Acrylic Polymer to a gloss finish. These gloss finishes can however easily become scratched, requiring constant maintenance by the owner. With this Acrylic being a solid material that has its colour and pattern all the through its thickness; if your benchtops do become scratched over time, they can be readily brought back to their original new condition.
Extra caution is needed with Acrylic Polymer Benchtops when using heat-generating appliances, particularly portable appliance types placed over a Bench top's joint because Acrylic Polymer is not heat or burn resistant, nor is it resistant to damage by strong solvents or to cracking under load; where it is not recommended that you do not stand on these type of benchtops (like when painting your kitchen ceiling for example).
Despite these, the great features of Acrylic Polymer Benchtops are those of being able to make near invisible joints. As part of this these manufacturers also make a range of Acrylic Sinks which can be seamlessly integrated into your Benchtop deck though most sinks are manufactured in white. Corian however make some sinks in some matching colours and also have Stainless Steel inset bottoms. The Stainless Steel, improves the sink's durability.
Adding Style and Value to your kitchen renovation is important and to that end, these Acrylic Solid Surface sheet manufacturers fully back their products, Corian and Staron offer a Ten-Year Limited Warranty whereas Freestyle and Hi-Macs provides a Fifteen-Year Limited Warranty.