This is a type of door that is manufactured by bonding a sheet of Thermafoil Vinyl onto all facing surfaces. With the added use of heat we vacuum press this decorative Vinyl sheet into face mouldings of doors and panels while also wrapping it over all the edges to make a continuous coating to these doors that provides a moisture resistant seal.
The core material of our doors and panels are 18mm thick, where we use a moisture resistant pre-stressed medium density fiberboard where this core material is best suited to the decorative machining that produce the various different door styles available. The back faces of these doors and panels can have either a white laminate finish or a matching Vinyl colour / patterned applied when both sides of the panel are to be seen; such as with Refrigerator Box end panels.
This process produces a resilient moisture resistant surface to Doors and Panels that easy to clean and maintain. This thermafoil vinyl material is available in a range of decorative Solid Colours, or Patterns, or Life-like Woodgrains, as well as there being some Metallic look finishes available. In addition to the range of Colours there is also a variety of different finishes to these; such as High Gloss, a Matt, a Woodgrain Tick, Brushed Metal effect and there is also a fine Textured finish.
The Textured finish here clearly performs the best for heavy wear, with the Matt and Gloss requiring a little more care to be taken. The Matt can develop shiny sections on the surface over time due to excess wear from rubbing, whereas the Gloss and the Matt clearly show up any scratches that may occur.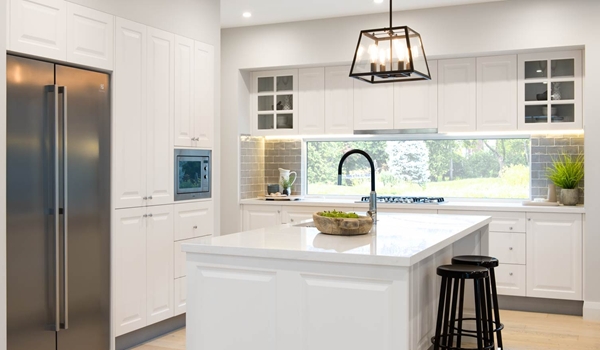 This Thermafoil / Thermoform Vinyl is a heat reactive material and so it will not withstand really high temperatures such as that released from an oven when the door is opened and due to this, some of the face trim panels in a kitchen design are best made from matching laminate board or the design incorporate heat deflectors. Care should also be taken to avoid spilling boiling water or exposing it to steam; as well as wiping up any water from around Dishwashers or the like.
We also like to warn clients that any large Vinyl door panels in the Gloss material have a tendency to bow due to the fact that the Gloss thermafoil is a much thicker Vinyl than the Matt or Textured Thermafoils; thus when pressed this material places extra surface tension on the front face of large panels.
With choosing a thermafoil Vinyl, you may also need to be mindful that there can sometimes be a lack of matching board, which would normally be used in the project for open shelving, kicker panels, divider panels and the like. If the finish selected does not have a matching Laminate board, then considerable cost can be added to a project where there is a need to press these additional double-sided panels in Vinyl to match.
Thermafoil vinyl is chip and impact resistant, it is also stain and moisture resistant, where cleaning is as simple as a quick wipe with a hot damp cloth. Since the introduction of Thermafoil Vinyl panels nearly 20 years ago, we have come to find that under certain environmental conditions the bond between the Vinyl and the Board can deteriorate over this time. The various manufacturers of Vinyl Thermafoil Panels such as Laminex, Formica and Polytec therefore only guarantee their product for 7 years.